Riverina installs quality fence and gate systems to suit the clients' requirements - a typical specification is given below:
Fence colours available are black or green.
The fence is 3 meters high installed with a top rail. All post and rail will be powder coated where possible. The only painted post is when light poles or post for basketball tower are to be supplied on short notice. These will be primed with gal. primer and then sprayed with 2 coats of Dulux paint. All mesh and wire is plastic coated and supplied by Smorgan A. R. C. Two gates are generally supplied in quotation as standard.
All post, rail, gates and fittings are first grade and galvanised before powder coating
Cnr post - 50mm diam
Inter post - 40mm diam
Top rail - 32mm diam
Gates - 1.20m opening
Fittings - Downie type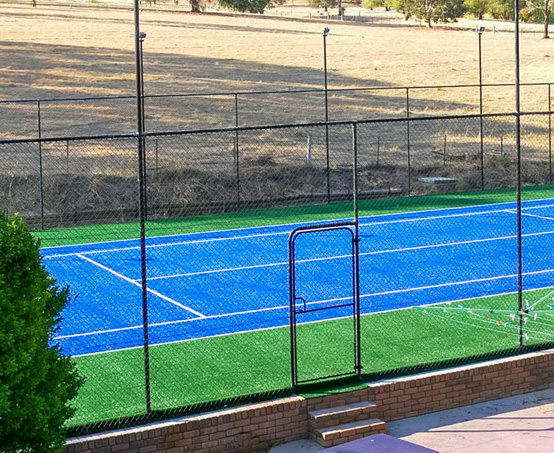 We offer low spillage lights in the event that your court is in a built-up residential area.
Lighting is a valuable addition to any tennis court and we have a range of lights to suit any court.
Extreme Cut Off Lights
The special reflector design of these lights offers precise control of spill light whilst maintaining a high level of illumination to the playing area.
ST1C
The ST1C light has been designed specifically for residential tennis courts because it reduces spill light and glare outside of the court to an absolute minimum. (Down to 3 lux, 3 metres from the court). Please call us today for more information.