Supergrasse Tennis
From amateur to professional our Supergrasse Tennis systems provide unsurpassed value are suitable for all climates and mimics natural lawn courts.
APT Asia Pacific is the most vertically integrated synthetic turf manufacturer in Asia Pacific. All of the Supergrasse® tennis court products are manufactured using in-house, proprietary yarns that are extruded in their Australian production facility.
All Supergrasse® systems are backed by proprietary hybrid emulsion secondary coating for superior tuft lock. You can be assured that all key components are covered by APT Asia Pacific's systematic product design and manufacture.
Supergrasse Tennis systems meet the current national and international standards.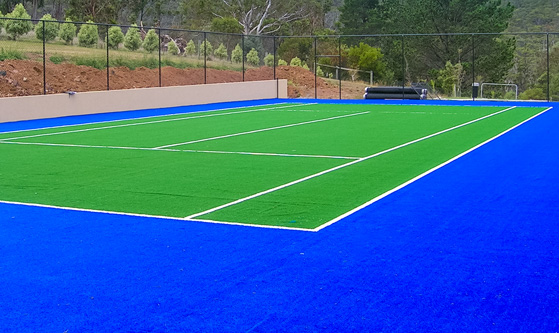 Supergrasse Court Turf - Unsurpassed Value for Money
Supergrasse® Court Turf is one of the best-selling tennis court turfs. It offers unsurpassed value for money and is aesthetically pleasing with a wide colour palette available. Court Turf is a multisport surface, excellent for school and community courts. Court Turf is made from APT yarn technology designed for Australian conditions, requires minimal maintenance and can be installed over existing asphalt or concrete courts.
Excellent value for money
Available in polyethylene (PE)
Suitable for multisport applications
Comes in a variety of colours
Australian Made®
Yarn weight: 1,000g/sqm    Pile height: 19mm    Sand Infill Ratio: High    Spin Response: Medium    Ball Bounce: Medium Low
Supergrasse Top 10HP - The Ideal Choice for Tropical Climates
Supergrasse ProBounce PE - Best Seller for more than 15 Years
Supergrasse ProBounce COOLplus - Best match to Natural Lawn Courts