Keeping your Court in Perfect Condition
Daily Maintenance
All Synthetic Grass Tennis Courts need regular maintenance by mechanical cleaning and grooming. This will remove any contaminants such as soil, bird droppings, leaf litter, algae and moss. Lack of grooming will cause sand to work its way from the playing surface to the outer perimeters of the court. This can result in poor sand-filling and irregular ball bounces, insufficient slide and an ungroomed court appearance.
Regular sweeping should be carried out in dry conditions when the surface sand is dry (dependent upon court usage) suggested weekly, on average.
The suggested method is to sweep loose excessive sand from perimeters back into the court playing area. Each time grooming is performed it should be swept in a different direction.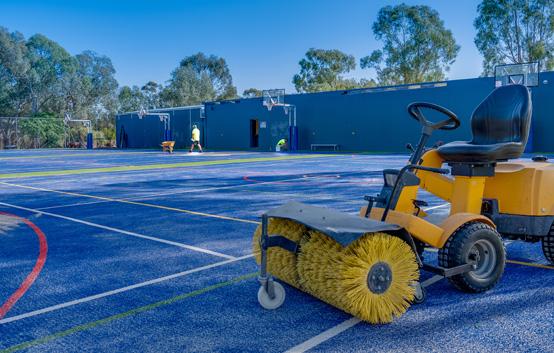 Contract Cleaning - If regular cleaning has not been carried out it may be necessary to organise a periodic cleaning contract - Riverina can undertake this work for the client.
After the court is cleaned we re-groom the court to evenly spread the existing sand.
Remove by hand or flat spade any loose debris, leaves, sticks, bird droppings, etc. -this is to avoid contamination of the surface by foreign matter.
Excess sand worked to the outside perimeter of the surface from play should be cast back into the play area and if necessary adding extra infill. Using a drag mat, start at the net running parallel from one side of the court to the other. This procedure should take no longer than ten minutes.
The importance is to maintain even distribution of infill cover and smooth the surface.
The sand should cover the surface so as the synthetic pile is just visible - approx. 2.00mm of pile.
We recommend our 6-month program to keep the court safe and looking like new. Get in touch for more information.